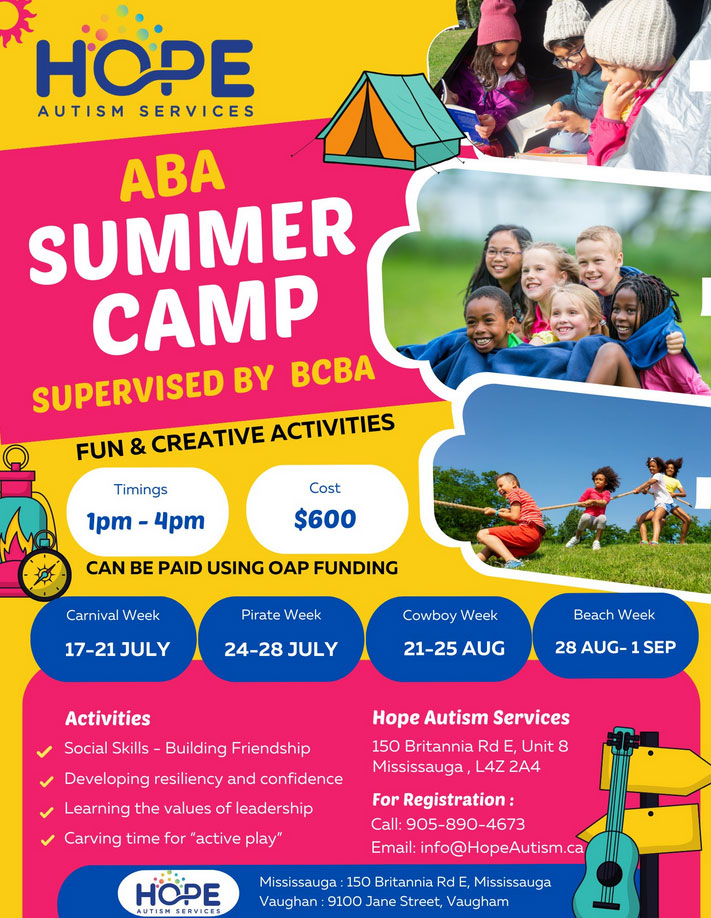 ABA Summer Camp – Copy
108
108 people viewed this event.
Calling all parents! ???? Are you looking for a summer camp experience that caters specifically to children with autism? Look no further! We are thrilled to announce our Hope Autism Summer Camp 2023, running from July 17th 2023 to September 1st 2023 at our Mississauga Centre. Our carefully designed program are supervised by BCBA and can be paid via OAP Funding.
At our camp, we believe in the power of a supportive and inclusive environment. Each week, we introduce a different exciting theme to keep the adventure fresh and engaging for our campers. From superheroes to nature explorers, every week brings a new world of fun!
– July 17 – July 21 : Carnival Week
– July 24 -July 28 : Pirate Part Week
– August 21 – August 25 : Cowboy Week
– August 28-September 1 : Beach Week
– Your child will have the opportunity to build lasting friendships and enhance social skills, fostering meaningful connections with peers. They will also develop resiliency and confidence, facing challenges and discovering their own unique strengths along the way.
– We value leadership and teamwork, and our activities are designed to instill these qualities in our campers. Through interactive sessions and collaborative projects, they will learn the values of leadership and responsibility.
– And of course, we make sure to carve out dedicated time for "active play"! Your child will enjoy exciting games, sports, and creative play, promoting physical fitness and imaginative exploration.
We understand the financial aspect, which is why we gladly accept payment through OAP funding, making the camp accessible to all families.
Don't miss out on this incredible opportunity! Sign up your child for our Hope Autism Summer camp today and let them embark on a summer filled with growth, joy, and unforgettable memories. Spaces are limited, so secure your spot now! ????
To sign up , email info@HopeAutism.ca or call 905-890-4673. Fees: $600/week ( Can be paid using OAP Funding)
Hope Autism Services Centre Locations:
– Mississauga: 150 Britannia Rd E, Unit 8 , Mississauga
– Vaughan : 9100 Jane Street, Vaughan (Vaughan Mills)